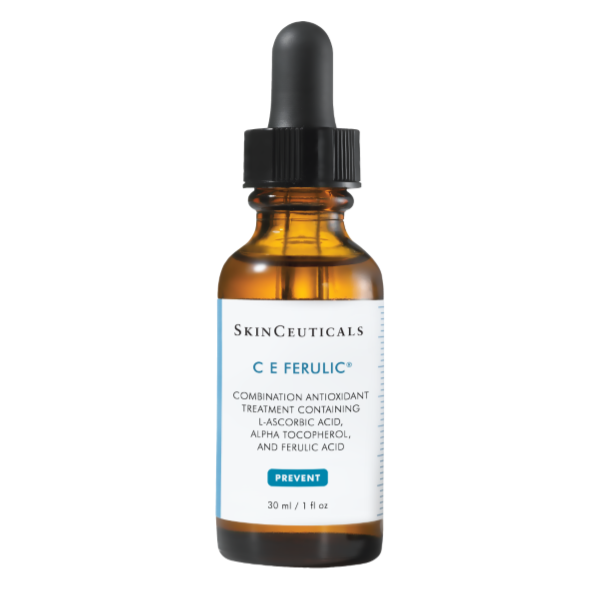 1oz
Our #1 anti-aging serum that works in your skin all day to prevent and correct environmental damage.
What does it do?
This patented formula is the most effective topical antioxidant we have yet to discover!  It contains a powerhouse of free radical slaying ingredients that protect your skin from external environmental assaults such as UVA & UVB rays, infrared radiation, second-hand smoke, pollution, and smog.  Relieving your skin from the constant onslaught of free radical damage allows your skin to more effectively repair itself, making this product just as corrective as it is protective.   Combined with a great sunscreen, this is a powerful anti-aging treatment!
15% L-ascorbic acid (vitamin C):
Neutralizes damaging free radicals and protects against oxidative stress.
1% alpha tocopherol (vitamin E):
Neutralizes free radicals and replenishes skin's lipids.
5% Ferulic acid:
This plant-based antioxidant neutralizes free radicals.
For whom is it?
This product is intended for normal, combination and dry skin types.  It is ideal for all ages to protect the skin from future damage.  People with dry skin may discover that moisturizer in no longer necessary after using this product on a regular basis
How should I use it?
Apply 3-4 drops to clean skin each morning.  Only use this product once a day.  Studies have shown that over use of topical vitamin C may reduce absorption.  On days that you may receive excessive, sun exposure, apply to any exposed skin such as chest, shoulders and hands. 
Ingredients:
Water, Ethoxydiglycol, L-ascorbic Acid, Propylene Glycol, Glycerin, Laureth-23, Alpha Tocopherol, Phenoxyethanol, Triethanolamine, Ferulic Acid, Panthenol, Sodium Hyaluronate